Halberg Criminal Defense has more Criminal Defense/DWI Super Lawyers™ and Rising Stars™ than any other law firm in the country.
155+ years of combined legal experience.
Arrested for DWI in Ramsey County, Minnesota?
Call the St. Paul DWI Attorneys today at (612) 424-7644 ( 612-333-3673 ).
Minnesota's Largest & Most Experienced DWI Defense Firm
Halberg Criminal Defense's practice is exclusively focused on criminal defense
More DWI Defense and Criminal SuperLawyers & Rising Stars than any other law firm in the Country
The St. Paul DWI attorneys at Halberg Criminal Defense understand the enormous stress that can weigh down a person facing DWI charges. If you or someone you know is facing a DWI charge, you could risk large fines, probation, loss of driver's license, jail time and a criminal record. While nobody would want to face any of these penalties, Halberg's Ramsey County DWI attorneys understand how damaging a criminal record can be to your future prospects and will work around the clock to see that your charges are reduced or dismissed.
Halberg Criminal Defense has over 155 combined years of criminal law trial experience to create a powerhouse law firm that supports each attorney in the full defense of your DWI charge.
Marsh
Halberg
Ramsey County DWI Lawyers
7900 Xerxes Avenue South, Suite 1700
Minneapolis
,
MN
55431
Call 24/7 (612) 424-7644
With more Criminal Defense/DWI Super Lawyers™ & Rising Stars™ than any other firm in the country
The ten attorneys at Halberg Criminal Defense bring an unparalleled blend of DWI defense experience together in one law firm – with over 155 years of combined criminal trial experience
Halberg Criminal Defense annually receives numerous awards and individual recognition for our ethical and vigorous defense of people accused of criminal activity
Halberg Criminal Defense is recognized within the legal community for excellence in our legal services
Halberg Criminal Defense was named "Best Law Firm" by US News and World Report
Track-record of success handling DWI charges in Minnesota
Attorney Jeremy Kaschinske is one of four Minnesota DWI defense attorneys who is certified on the DMT Breath Machine
FREE Consultation to discuss your DWI charge when you call (612) 424-7644 ( 612-333-3673 ) or complete our contact form
Having combined over 155 years of legal experience, Halberg Criminal Defense has become one of the leading criminal DWI defense firms in Minnesota. Their unique blend of knowledge and skill has earned them a history of success that has earned them the highest possible AV rating from Martindale Hubbell. Their firm also has two certified Intoxilyzer operators that has given them a better understanding of the machines functionality and accuracy when defending clients in court. Their legal team of Ramsey County DWI attorneys consists of former assistant county attorneys and three former city prosecutors. They were honored when U.S. News and World Reports Best Law Firms Edition named them as one of the Best Law Firms and ranked them First Tier in DWI Defense.
Established Reputation in Minnesota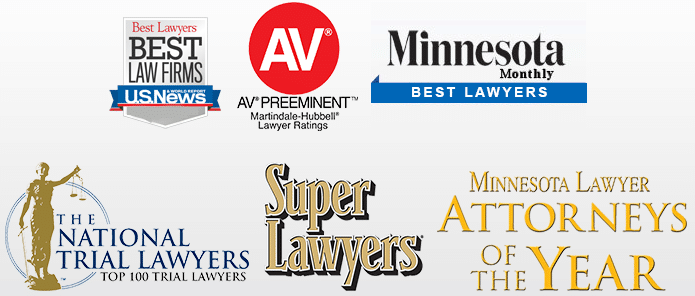 Halberg Criminal Defense annually receives numerous awards and individual recognition for ethical and vigorous defense of people accused of criminal activity.
Halberg Criminal Defense is recognized within the legal community for excellence in legal services. In addition to handling many of the "high-profile" cases in Minnesota they pride themselves in the discrete legal assistance they can provide to all Ramsey County citizens experiencing criminal difficulties. Individually, each St. Paul DWI attorney has earned numerous awards. Proudly, Halberg Criminal Defense has earned Martindale Hubbell's highest "AV Preeminent" rating. This ranking is a significant rating accomplishment- a testament to the fact that the firm's peers rank it at the highest level of professional excellence. This award is based upon legal knowledge, analytical capabilities, judgment, communication ability, and legal experience.
The firm prides itself on approaching each criminal case as a team. By pooling the collective knowledge and unique perspectives of each criminal defense attorney they maximize the potential for successful results. The Halberg Criminal Defense attorneys continuously receive successful resolutions for their clients charged with DWI and other criminal offenses. The government agency prosecuting you has virtually limitless resources at their disposal. As Halberg Criminal Defense is the largest criminal defense firm in Minnesota they have the ability to aggressively confront the Government and not be intimidated by its authority.
The St. Paul DWI attorneys at Halberg Criminal Defense use the most advanced methods available to assist in your criminal defense. The combination of their access to the latest legal research tools, highly skilled investigators, established experts, and the earned respect of prosecutors and judges state-wide, they assure you that you have hired the right DWI defense team.
---
7 County Metropolitan Area DWI Attorneys
Anoka · Carver · Dakota · Hennepin · McLeod · Ramsey · Scott · Washington · Wright
---
Ramsey County DWI Attorneys at Halberg Criminal Defense
Lucas Dawson, St. Paul DWI Defense Attorney
St. Paul DWI Defense Attorney Lucas Dawson has represented numerous clients on a variety of complex legal issues involving criminal sexual conduct, abusive head trauma, assault, shaking baby syndrome and homicide. She also had the benefit of prosecuting juvenile delinquency and child protection cases at both the Chisago County Attorney Office and Hennepin County Attorney Office.
Lucas has a vast amount of experience in handling related matters that arise out of allegations of criminal conduct. This includes defending parents against termination of their parental rights, fighting child protection actions, and contesting claims of child maltreatment.
She has earned a reputation as a solid, hard-working attorney who sincerely cares about the welfare of her clients. Lucas is a frequent presenter on various topics related to criminal defense issues. Lucas has repeatedly been honored as a Super Lawyer – Rising Star.
Zach Graham, St. Paul DWI Defense Attorney
Prior to joining Halberg Criminal Defense, St. Paul DWI Defense Attorney Zach Graham worked at the Public Defender's Office for Minnesota's First Judicial District in Scott County and Carver County. He later worked within several City Attorneys' Offices prosecuting criminal cases in Dakota County, Carver County, Scott County and Hennepin County. Zach also gained experience representing clients in out-state Minnesota, when he worked for a private law firm in Mankato, Minnesota defending clients facing a wide range of criminal charges.
Zach has lived in Minnesota since attending the University of Minnesota for his undergraduate degree. In his spare time Zach coaches and officiates youth hockey and is an avid sports fan, golfer, and outdoorsmen.
Marsh Halberg, St. Paul DWI Defense Attorney
Throughout Marsh Halberg's 40 year legal career, St. Paul DWI Defense Attorney Marsh Halberg has tried thousands of criminal court trials, over 100 criminal jury trials and has gained valuable experience in all types criminal litigation. His experience and success has earned him the title of Super-Lawyer by his peers annually since 1997. He was also added to the list of Who's Who in Criminal Law and honored as a member of Outstanding Lawyers of America. Before receiving his Juris Doctorate at Hamline University School of Law, he earned his undergraduate degree at St. Olaf College. St. Paul DWI attorney Marsh Halberg is also one of the most requested speakers on criminal law issues at Continuing Education lectures. He has supervised more than 15,000 criminal cases annually as Chief Prosecutor for the City of Edina, Minnesota and the Metropolitan Airports Commission. Marsh Halberg is also the editor-in-chief of the most comprehensive DWI source book used by attorneys throughout the state, The Minnesota DWI Deskbook, and assists in the training of newly appointed State District court judges. He has authored numerous training manuals and seminar materials pertaining to criminal law and still remains active in volunteer, charitable, and civic organizations serving Chaska and Carver County. As you can see, St. Paul DWI attorney Marsh Halberg not only has decades of experience in criminal and DWI law, but has been recognized throughout the State of Minnesota as a criminal defense attorney that can be relied on for guidance and superior legal representation.
"Attorney of the Year" (Minnesota Lawyer 2011)
"Top Six Criminal Defense Attorneys" (Minneapolis/St.Paul Magazine)
"Super Lawyer" (1997-Present)
Debbie Lang, St. Paul DWI Attorney
Before moving to private legal practice, Debbie Lang worked in a City Attorney's Office in Anoka County and later represented thousands of clients charged with criminal offenses in the Ramsey County court system. Her representation achieved successful results in cases of domestic assault, drug possession/sale, criminal sexual conduct, and homicide. She has handled countless DWI cases with findings of not guilty or reduced charges.
Debbie is a requested speaker on diverse criminal law topics, including property forfeiture and field sobriety testing in DWI cases. She was an adjunct professor at Hamline University within the Legal Studies department for years. She is a member of the Minnesota Society for Criminal Justice (MSCJ), a very selective organization of only 50 Minnesota criminal defense attorneys. Debbie has repeatedly been voted a "Rising Star" by SuperLawyers, an honor held by no more than 2.5% of Minnesota lawyers. Debbie has also been recognized as one of the "Top 100 Trial Lawyers" in the country by the National Trial Lawyers Association.
Debbie Lang has earned a reputation as an attorney who will vigorously advocate for her clients to obtain positive results and to ensure her client's constitutional rights are not violated.
2012, 2014, 2015 and 2016 "Super Lawyer Rising Star"
"Top 100 National Trial Lawyers" by the National Trial Lawyers' Association
1 of 50 Minnesota Society for Criminal Justice Members
Eric Nelson, St. Paul DWI Defense Attorney
Since his admission to the Bar, St. Paul DWI Defense Attorney Eric Nelson has practiced exclusively in the area of criminal defense establishing a solid reputation as a highly skilled attorney. Eric's experience includes successfully representing clients charged with all levels of crimes through negotiation, jury trial and at the Court of Appeals. Eric's experience includes homicide, sex offenses, drug offenses, assaults and hundreds of DWI and alcohol-related traffic offenses. Eric has also represented individuals faced with civil commitment as a sexually psychopathic personality/sexually dangerous person.
Eric has represented clients throughout the state of Minnesota. Eric focuses the majority of his practice in Dakota, Hennepin, Ramsey and Scott counties. In 2007, Eric was admitted to practice law in Wisconsin. He has represented clients in Dunn, St. Croix, Barron, and Washburn counties.
Eric is a frequent lecturer on various criminal topics including driving under the influence of a controlled substance and the manufacturing of methamphetamine. Eric routinely speaks throughout Minnesota and serves as a judge in moot court and mock trial competitions. Additionally, Eric has also been a contributing author to the Minnesota DWI Deskbook, the most comprehensive DWI sourcebook for attorneys in Minnesota.
"Rising Star" from 2004-2013
"Super Lawyer" 2014, 2015 and 2016
Named one of the "TOP 40 UNDER 40" by the National Trial Lawyers' Association
Dave Risk, Ramsey County DWI Defense Attorney
Minnesota DWI Defense Attorney Dave Risk has earned a reputation for excellence as a criminal defense attorney through his aggressive representation of thousands of clients since 1999. Dave has represented people charged with all types of crimes ranging from misdemeanor driving offenses to multiple counts of first-degree murder.
Dave began his career as a public defender in Ramsey County after graduating seventh in his law school class. After only two years he began teaching classes to other defense attorneys on the best practices in DWI defense as well as other criminal defense topics.
In 2005 Dave joined a private criminal defense law firm where he focused much of his work on DWI and Implied Consent cases. With the opportunity of private practice Dave was able to spend significant time learning the science and technology necessary to defend criminal cases. As an example, he is one of only a handful of attorneys in the State of Minnesota who has been certified as an operator of the Intoxilyzer 5000 EN as well as the DataMaster DMT-G (the breath testing machine currently in use in Minnesota).
Dave became a Partner at Halberg Criminal Defense in early 2013. Since that time he has spent more of his time defending high profile Criminal Sexual Conduct cases and helping other clients whose cases have garnered significant media attention. Dave is particularly skilled at finding novel legal issues and successfully litigating those issues through his powerful cross-examination skills. As a result, his peers have named him a "Super Lawyer" or "Rising Star" twelve times. He is also the past President of the Minnesota Society for Criminal Justice, a group consisting of the State's top 50 DWI Defense Attorneys.
Eight-Time Award Winner of "SuperLawyer – Rising Star"
J.D. William Mitchell College of Law magna cum laude graduate
2014, 2015 and 2016 "Super Lawyer"
Charlie Rooney, St. Paul DWI Lawyer
St. Paul DWI Lawyer Charlie Rooney joined Halberg Criminal Defense after spending several years as a prosecutor with the Hennepin County Attorney's Office where he litigated hundreds of cases ranging from minor traffic incidents to complex felony trials and criminal appeals. Before his time as a prosecutor, Charlie worked as the law clerk to the Chief Judge of Hennepin County District Court, where he learned to navigate the complex machinery of the court system.
Charlie is committed to using strategic thinking, focused litigation, and zealous advocacy to help his clients. His priority is to actively communicate with his clients to determine their goals and priorities, and then to work to realize those goals through his representation.
Outside of his law practice, Charlie enjoys studying world languages and local history, exploring his beloved Twin Cities with friends and family, and obsessing over the Minnesota Twins.
Christina Zauhar, St. Paul DWI Lawyer
Christina Zauhar obtained her law degree from Hamline University School of Law. She worked in many realms of the criminal justice system prior to joining Halberg Criminal Defense.
She served as a Ramsey County Guardian ad Litem in juvenile court, a mediator in Ramsey, Hennepin, St. Louis, and Carlton counties, and also clerked for several prestigious law firms in the Twin Cities.
Ms. Zauhar also worked as an associate in the Risk and Fraud department of Thomson Reuters. She holds a Certificate in Advocacy and Problem Solving. This certification includes alternative dispute resolution coursework and other practices such as mediation, negotiation, and arbitration.
Member of Minnesota Women Lawyers
Member of the Minnesota State Bar Association
Contributing Author to Minnesota DWI Deskbook
Magna Cum Laude from Mitchell Hamline School of Law
"Marshall Brennan Fellow"
Former Law Clerk, Third Judicial District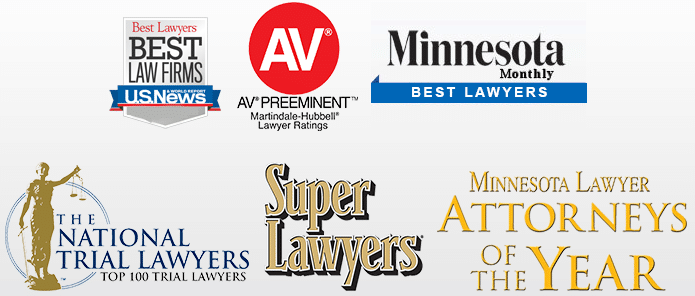 What are the DWI Laws in Ramsey County, Minnesota?
The State of Minnesota has established that driving while intoxicated or DWI, as the act of driving while impaired by prescription drugs, illegal drugs, or alcohol. Many states also refer to this as a DUI or driving under the influence, which is similar to a DWI, because they both refer to the charge of driving with a blood alcohol level equal to or exceeding .08%. You can also be charged with DWI should you exhibit impairment to the degree that you are no longer operating your vehicle safely. However, it is important to know that you can still be charged with a DWI in Ramsey County even if your blood alcohol level is below .08% based on observations made by the arresting officer. Under Minnesota law, when a person is issued a driver's license, they have automatically given their implied consent to have their blood alcohol content checked if requested by an officer. If the person refuses the chemical test to establish their BAC level, they could face additional charges and penalties. Consult a Ramsey County DWI attorney to find out about all potential penalties you may face.
What are the penalties for a DWI in Ramsey County, Minnesota?
The State of Minnesota has established four judicial levels of severity for DWI charges and they are:
Fourth Degree DWI – This is a misdemeanor charge punishable by up to 90 days jail time and a $1,000 fine (for a driver's first impaired driving offense within ten years with no aggravating factors or test refusal).
Third Degree DWI – This is a gross misdemeanor punishable with up to 1 year jail time and a $3,000 fine (for a driver's second impaired driving violation within ten years or first violation with an aggravating factor or test refusal).
Second Degree DWI – Gross misdemeanor. For a driver's third impaired driving violation within ten years or second violation with test refusal or one other aggravating factor. Also includes first such violation with two aggravating factors.
First Degree DWI – This is a felony charge, punishable by up to 7 years jail time and a $14,000 fine. For the driver's fourth impaired driving violation within 10 years or anytime following a prior felony DWI or criminal vehicular operation conviction.
The degree with which a person is charged depends on various factors surrounding their case including the number of past offenses within a ten year period and refusal to submit to a blood or breath test. Having a blood alcohol level of .16% or higher and also having a minor below the age of 16 could also influence the degree charged. Regardless of the charge, should you be convicted of a DWI, you could risk facing large fines, higher auto insurance, loss of drivers license, mandatory attendance in a chemical dependency group or jail time. Having a criminal record could dramatically affect a persons job status, future employment opportunities and even their credit score. With so much at stake, it is important that you have a skilled, experienced St. Paul DWI attorney that will aggressively protect you and your future in court. St. Paul DWI lawyers at Halberg Criminal Defense have the knowledge and experience to see that you are treated fairly and honestly.
Administrative Sanctions for a DWI in Ramsey County, Minnesota
In addition to criminal penalties incurred from a DWI charge in Ramsey County there are three administrative sanctions that can go into effect immediately upon arrest. They are an administrative license revocation, administrative license plate impoundment, and an administrative vehicle forfeiture.
Administrative License Revocation
The Administrative License Revocation pertains to the implied consent law during the arrest process where a person's license may be withdrawn should they fail a chemical blood or breath test or refuse to submit to the test. However, the person can appeal the license revocation either judicially in court or administratively through the DPS. Having skilled Ramsey County DWI attorneys at Halberg Criminal Defense to assist you in this matter could greatly increase the chance of a successful appeal.
Administrative License Plate
Another sanction is the Administrative License Plate Impoundment which involves a violation with an aggravating factor. Plate impoundment applies to the vehicle used in the impoundment violation and any vehicle registered, owned or leased in the name of the offender, whether its alone or jointly.
Administrative Vehicle Forfeiture
Administrative Vehicle Forfeiture is another sanction that typically applies to a person's third DWI violation within ten years. The vehicle forfeiture is conducted administratively, although, the owner has 60 days to appeal the sanction by filing for a judicial determination of the forfeiture.
To fully understand your charges and penalties you could face, it is beneficial to consult with someone who knows Minnesota law like a St. Paul DWI attorney that works in this field.
For Top Tier legal representation for a DWI in Ramsey County
Contact Halberg Criminal Defense
St. Paul DWI attorney's at Halberg Criminal Defense been recognized by their peers in Minnesota for their first class legal representation. Halberg Criminal Defense's St. Paul DWI attorneys are the leaders in DWI education and defense throughout the state. If you or someone you know is facing drunk driving charges, call Halberg Criminal Defense now at (612) 424-7644 ( 612-333-3673 ).
Halberg Criminal Defense Client Reviews
Over the years HCD has received many letters of appreciation from their clients. Here are a few to share with you.
This is the Super Squad of legal defense. Unparalleled defense in the courts, this company has cultivated top lawyer/attorneys. The court system is extremely complicated and designed in ways that are difficult to navigate without an attorney who is thoroughly educated on the details of the laws. The law is not always what is just. You need someone who knows ALL the details of the laws to be successful in court. The system, in my opinion, is designed for an individual to be swallowed up by technicalities and ultimately fail if you do not have knowledge of those laws. The feeling of security is priceless and this team offers the best defense money can buy. When it really matter and when you need to pull out the 'Big Guns', so to speak, this is a team whom I would trust my (or my family's) fate/future in the hands of.

S.D.
If you find yourself in a circumstance where you need to hire a criminal defense attorney, chances are your situation is not good. For me, my emotions were running high and my knowledge of how to use the law in my favor was low. Enter Debbie Lang whose expertise pairs superior knowledge o`f the law with an unprecedented ability to "think on her feet". She kept me focused with her clear direction and her impeccable follow-through helped me feel safe in trusting the legal process. The end result was nothing short of miraculous and I will be forever grateful for her.

T.B.G.
After working with another prominent defense attorney for more than 1 year on my case, I switched to Dave Risk. My original attorney did not communicate well with me and my case was floundering. To be fair, my case was anything but straightforward. Dave Risk's ability to listen and explain immediately reduced my anxiety over my case. Even though many of his clients were facing more serious charges than I, he never made me feel as though my case was not important. Dave was tough when he needed to be and I appreciate his willingness to fight above all else. He jumped in midstream and turned my case around, achieving the best possible result. My only regret is not hiring him sooner.

M.S.
Debbie & Marsh – Extremely impressed and so grateful to both of you. I wish you the best, and God bless both of you for all you have done for me.

D.Q.
I was facing a very daunting situation, and Zach and Marsh were able to use their experience to help me through it. Both of them were friendly and helped me make sense of everything going on. They provided me council and helped me to take the best steps forward. I am forever grateful for their help.

R.F.
Debbie Lang outstanding work! Hired Debbie Lang to help with an out of town traffic matter. Found her to be a great communicator, quite skillful, and a really competent negotiator. Achieved our goals with a minimum of my involvement.

D.M.
Hands down the best experience in a bad situation. Dave Risk was my attorney for all 6 of my DWIs from the age of 17-25. Always put my needs first, Walked me through every step of what was to be expected. Honest man and always made sure I understood what was going on. Very personable, professional. Makes you feel safe while going through the legal system. He actually cares about you, takes the time to get to know you.This man will go the extra mile for you, I know because he did it for me. Now I can only speak on my experience with Dave Risk as far as personal level, but I would trust anyone at that law firm with any legal advise because of my experience with Dave. If I ever have another legal problem, I know where to go, you can't beat this representation. Thank you Dave and all his associates for all of the hard work you guys put in, it doesn't go unnoticed!

E.W.
In September of 2017, I was charged with 2, 1st degree felony sexual assault charges as well as 2 gross misdemeanors and 2 petty misdemeanor charges. At the time, I was the owner and operator of a very successful chiropractic clinic. The allegations of sexual assault were false but the county decided to charge me without reviewing the evidence that they were given at the time of my arrest. My case was extremely and highly publicized based on this false information. At the time, it absolutely destroyed my life. I was referred to Dave Risk of Halberg Defense from a friend that had used him in the past and was highly pleased with his results. Dave took my call initial call on a Sunday and met with me the next day at his office. At our first meeting, my family and my fears were put at ease by the professionalism and knowledge of Dave Risk. My case was extremely complicated due to all of the charges but Dave navigated them masterfully. This was a huge case for the prosecutor of my county and she was hell bent to convict me of these false charges because anything less was going to make her look very foolish after charging me. Dave Risk, however, worked relentlessly and was able to have all 6 charges dismissed. He helped reestablish my name and reputation that had been ruined by this false accusation and incompetence of the county. Also, during this time, my license to practice chiropractic was suspended and I was no longer able to practice chiropractic. Once my criminal case was resolved, however, Dave Risk and Marsh Halberg were able to masterfully negotiate a resolution to have my license returned that both the chiropractic board and I felt was fair. I will be eternally grateful to Halberg Defense for helping me get my life back. Thank you Dave and Marsh!

S.C.
Zach Graham was great to work with!! I was very happy with how he represented me, if anyone asks me about a good lawyer I will always send them Zach's way.

C.D.
I have personally worked with Dave Risk from Halberg Criminal Defense. I could not have been more blessed to be appointed to such a kind, knowledgeable, ethical and honest man. He represented me in two DWI situations. The first one with Dave's professionalism and knowledge was able to prove that I was not driving at the time and that case was dismissed. The next one I was found guilty. They wanted to give me jail time. Dave spoke with the prosecutor and explained my situation in detail and advised against incarceration for me. I did not do any jail time. When I got my 2nd DWI Dave informed me that he does not like repeat business. He likes referrals. I have spoken to Dave regarding other situations with family members and he has advised me on my best options. He is straight to the point and tells it like it is. I have 11 years sober and Dave was an intricate part of my sobriety. I have his phone number programmed in my phone. I call him every year on my sober date to thank him once again. I would highly recommend Halberg Criminal Defense to anyone as well as Dave Risk. If a circumstance arises they are the first people that come to mind for help. Thank you for everything you have done for me and my family Dave.

V.S.
Amazing, honest, caring and thorough. I've worked with Dave twice! My life could be totally different right now! He saved my life in more ways than one! I wouldn't trust anyone else with a criminal case other than Dave!!!

T.H.
When we needed Zach Graham to help with a never ending court process and probation issues he was there. Zach went out of his way for us we are appreciative of him through a pandemic in the world and our lives he definitely won't be forgotten! He was always keeping us updated and pushing for a result the ambitious actions from him definitely saved us from more unnecessary stress in our lives. We are seeing the light at the end of a 3 year long tunnel and I owe this blessing to Zach thank you so much.

A.L.
Marsh Halberg and the Halberg Defense staff – I am writing to express my deep gratitude for your help on my case over the past several years. Just months after I had graduated college I made a very irresponsible decision, a decision with consequences that would have severely set back my life's goals and aspirations. Despite the hole I had dug for myself, you were able to give me the resources to set my best foot forward in court. And then won a very favorable resolution that gave me the chance to prove myself and start back onto a productive path in life. Thank you once again for all that you and your team has done for me.

D.J.P.
Zach, Thanks for your professionalism and getting a timely result for the best possible outcome for my offense. You made me feel at ease through the legal process. If I ever need a criminal lawyer again, you and you company are on the top of my list.

J.M.
Christina was great to work with. The circumstances by which I required her services caused me a great deal of anxiety but she immediately put my mind at ease during our initial visit. Prior to my hearing she very patiently coached me while I occasionally ranted about my case. On the day of my hearing I arrived 15 minutes early and she was already there waiting for me, which immediately put me at ease. During the hearing she was on-point the entire time, and really owned the proceedings. After my case was dismissed (we won!) The court reporter AND judge both complemented her on her courtroom presence. Her work was worth every penny, and while I hope that I never need her services again, I would not hesitate to rehire her. Thank you Christina!

G.W.
Debbie – You were amazing and much appreciated! Your hard and intelligent work paid off. Thanks so much.

M.F.
I just wanted to thank you for everything you did for me. I really appreciate it!!! I wish you the best. I would recommend anyone to you. (Hopefully I don't have to).

J.L.
I just wanted to give you an update that I did start a new job. I can't thank you enough for helping me in my time of need. I just have to take one day at a time. Thanks!

S.D.
We contacted Debbie Lang from an internet search while on vacation overseas. Her immediate response to our situation was nothing short of amazing. She drove an hour in the wee hours of the morning to assure her client she would do everything possible and she did not disappoint. She was always available and responded with a calm, collected demeanor that allayed my worst fears. Her laser-like focus on her client, coupled with her extensive knowledge of the law resulted in a positive outcome that was beyond our expectations. Her compassion was evident and sincere throughout the entire process. I would highly recommend her services.

C.B.
Debbie – We appreciate all of your strength, support, kindness in handling my daughter's case. From the minute that you picked up the phone to the day that you wiped my daughter's tears; we knew that we were in the best hands possible. You truly are amazing! Thank you from the bottom of our hearts.

B.I.
Thanks so much for your help man!! I don't really have words right now cuz it's still sinking in….that was really scary…..I knew that you were smart and tough and I knew that's what I needed thank you!!!

Debbie – Thanks again for how well you handled my case and how professional and committed you were to making sure we got the best possible outcome. I've never had lawyers until recently, I've had three and you are the best of all. I appreciate you and just want you to know that.

S.L.
Debbie Lang represented me in a criminal case and I could not be happier with her work. Debbie and the team at Halberg Criminal Defense did an absolutely amazing job and the results were much better than I thought possible! Debbie is knowledgeable, organized, detail oriented and an amazing advocate for her clients. She welcomed any and all questions I had. She kept me informed and responded quickly to all my phone calls and emails. She has excellent communication skills and always took the time to explain each step of the court process in detail. Debbie was dedicated to defending my rights and worked tirelessly to reach a positive outcome. She is compassionate and kind and was a huge support to me during an incredibly difficult time in my life. Debbie was direct and honest, gave me options and provided exceptional legal advice. I am forever grateful to Debbie and the entire staff at Halberg Criminal Defense!

L.C.
Those at HCD went above and beyond my expectations of what I imagined a good lawyer to be. I had never been in any kind of trouble prior to finding myself facing 4 years in prison overnight for a fire I couldn't even remember. My reputation and life had gone up in smoke along with it. I interviewed several other lawyers before meeting with the attorney from HCD and we clicked immediately. I was first drawn to his several impressive awards hanging in his office and his professional demeanor. He immediately became the obvious first choice for me. Over the next 11 months, I never found myself regretting that decision. He helped me through the darkest days of my life thus far with unparalleled compassion and professionalism. He told me what I needed to hear rather than what I wanted to hear, but in a way that was still comforting. He didn't make promises he couldn't keep and helped me manage my expectations. My concerns and questions were always addressed within a business day regardless of how ludacris some of them must have been. You can genuinely tell he cares about his clients. After it was all said and done, I couldn't be happier with the outcome. HCD saved my life, plain and simple. He got that 4 years turned into 30 days of jail, three years of probation and I won't have to be a felon for the rest of my life. I would 100% recommend him to anyone in dire need of a great lawyer. My solitary complaint is that he's a Packers fan, but hey, nobody's perfect.

You've become a true friend to me that I pray I never need again. Thank you so much for everything you've done for me. I will never forget it.

Respectfully,
J.B.
Hello

This is a quick note to let you know I appreciate your help and support. I would recommend you to anyone. It's the best money I've ever spent and feel like the fee was very reasonable. I don't know much more to let you know my admiration of your help. Highest regards to you.

W.R.
I cannot thank Zach and the Halberg team enough for their professionalism and care during a difficult time. I believed at all times they cared and fought for the best outcome possible in my case. I highly recommend them and thank them for all their hard work in getting me a favorable outcome

J.H.
I will never be able to fully express my gratitude for all that Debbie Lang has done for me. She is an incredible attorney and I don't know what I would have done without her. Debbie is an extremely knowledgeable, skillful and compassionate lawyer, who deeply understands the intricate aspects of criminal law and of the court system. Debbie successfully represented me in a complex criminal case and always made herself available for any and all of my questions. She was also in constant communication with me about every detail or development concerning my case. One of the few things which provided me hope and relief over the last year, was knowing that Debbie was in my corner and would always fight for me to have the best possible outcome. She advocated for and supported me at every turn. I am absolutely certain that I would not have had the positive outcome that I did, without her representation. You could not hire a more exemplary criminal defense attorney. I am looking forward to the life ahead of me, thanks to Debbie.

K.S.
I just wanted to say thank you so much for being so amazing…you definitely make the worst situation better! I know we paid you but your kindness, friendliness, and overall awesomeness made my horrible situation so much easier to go through! (Plus you're so fun to look at!). You did such a great and thorough job and made me feel sooo much more confident with EVERYTHING… I cannot thank you enough. I appreciate everything and hopefully do not need to recommend you to a friend—but if I do you'll be the first on my list! Thanks again!

L.W.
I appreciate you so much. I've felt fully confident since the moment I sat down with you just three weeks ago. I can't thank you enough for being such a phenomenal attorney and person.

H.M.
Debbie,

Thank you for being an amazing lawyer. I am very thankful for your help.

S.M.
Marsh and Christina,

I can't thank you enough for all the help and support! Thank you so much for helping us through our son's legal hassles. This process was no joke. We so very much appreciate it! You guys were awesome and I can't thank you enough.

J.S.
Hi HCD…thank you again for all your hard work. I am very grateful that the outcome was as best as it could have been. I really do appreciate everything you have done for [my daughter]…I know that we'll be coming back. I hopefully don't anticipate ever having to use a lawyer again, but I would definitely, definitely use you again and refer you, because you are not just an attorney, but you are a very, very good person, and I just want you to know from the bottom of my heart, I am very grateful we had you to represent [my daughter]. All the best to you, good luck, I will keep in touch with you as far as [my daughter]'s future, I don't know if you want to know how everything ends up, but I'd be willing to let you know. I have a feeling things will be very positive for her; she's a good kid. Take care and have a great day, HCD. Thank you again.

D.C
We can't thank you enough for all your help with our son. We were so lucky to find you as our lawyer. We are so grateful he is getting this second chance.

Thank you again!

Marsh
I would like to say thank you for all of the support and hard work you have provided to me… I know in my heart you got me a great deal, which I am very appreciative of. I'm thankful to have most of this behind me now and will look towards the future of better choices, giving back to the greater good and surrounding myself with good, kind, loving people.

Sincerely,
H.L.
Debbie Lang represented me in a DUI case. Her expertise helped tremendously. She understood my concerns and helped ease some of the stress involved with her kind approach and understanding. I'm so very grateful that Debbie Lang was referred to me. I would recommend anyone going through a criminal challenge to contact Debbie Lang. You won't be sorry.

E.S.
Halberg Defense helped me overcome a false accusation of a heinous crime. I was charged and arrested for a crime that I did not commit. You can imagine my shock riding in the back of the squad car. I was nervous; if my accuser had enough power to have me arrested, I had no idea what to expect in court. My initial reaction was to go to a small town lawyer that had helped me once in the past. But after some research I hired the best defense team in Minneapolis.

I thank God that Halberg Defense was there to help. After many long months of turning down plea bargain after plea bargain, we finally went to trial. Marsh and Christina did an amazing job at bringing light to a courtroom full of darkness. The truth was revealed and I was found not guilty on all charges! I'm convinced that without the guidance and experience of Halberg Defense, there might be one more wrongly accused inmate in our prison system. Thank you Halberg Defense for saving me from years of innocent imprisonment.

N.P.
Christina- Thank you to you and Marsh for all you did for us! I can't tell you how much your help and support meant. This was one of the most difficult, frustrating, and frightening things we've ever been through. It just makes me realize how easy it is to get into the system and how hard it is to get out. It makes me sad to think about all the kids who end up in the school-to-prison pipeline who really don't belong there.

Thank you again for everything. We will be sure to tell (our son) hi from his awesome legal defense team!

-CM
Thank you for all you have done for our family! We will never forget the angel that you were during those horrible times.

F.Y.
I just need to express to u I do love u dearly not only becuz you saved my a** (with) that not guilty verdict we won together, but … I will have cleaned up my act largely (because) of you. U showed emotions to me that were real … I felt that… I've made vital changes in my life, I promise U!

N.T.
I know all that CAN be done WILL be done with you in my corner.

N.P.
Debbie – Not sure I fully understand what you did, or how you did it, but THANK YOU from the bottom of my heart for helping [my son] put all this awfulness behind him. You're the best!

S.K.
What an amazing lawyer! We love Debbie Lang. She really fights hard for her clients and wins! One thing we've always been impressed about her is how she just "OWNS IT" in court.

D.B.
It's finally all over!! I am filled with relief, joyful tears and overwhelming gratitude for you for all you've done for me! I could NOT have gotten through this mess without you! Thank you so much!"
Blessings,

D.R.
Hi Tina! I wanted to let you know that (I am) officially off probation … five months early! … (I) couldn't have done it without you. I want you to know I still appreciate (you) and am so thankful for everything you did!

They are releasing her from jail! Thanks soooo much, you are great Tina!

Thanks Tina. You are such a loving angel in my life.

Tina you're the best. I'm really happy with the outcome. I'll recommend you to anyone I ever can.
Hey HCD! Just wanted to say, THANK YOU SO VERY MUCH, yet again for ALL that you do! You go above and beyond your call of duty, no doubt! The legal stuff may be your job, but you've had such a wonderful way of putting me/us to ease throughout the whole process, and help us understand it all. You actually TRY to understand EVERYTHING about ALL of us, and that really helps us cope and feel "relative/personalized", per say, NOT just like "another client". So again, THANK YOU HCD! Make YOUR day great! Our day, today, is a little brighter! ;)

Sincerely,

LP
After being in an unexpected situation one Saturday morning we required an attorney on short notice and interviewed two attorneys. We discussed the situation with Dave Risk and he assured us that he could achieve a positive outcome based on the facts. We chose Dave because we felt his knowledge and suggested approach would give us the best chance of success. That he did! After many months and multiple negotiation attempts with the prosecuting attorney, Dave used an optional hearing process that presented the evidence to a judge. A short time later after careful review the judge dismissed the charges. With Dave's experience and guidance we persevered and were able to get the charges dismissed. We are truly grateful and highly recommend Dave when the need for a criminal defense attorney arises.

Sincerely,

M&RD
To those who are debating on who to hire as your next attorney – take these words to heart: I can't express my gratitude enough to how Attorney Dave Risk handled my case. I sought out and interviewed several attorneys to handle my case, of which was complicated and ultimately could have changed my life. Mr. Risk assured me that he knew what he was doing from the get-go. But the other attorneys did as well. I connected with Dave and my intuition paid off. I was looking at serious consequences based on my inappropriate actions, of which I regret. But Dave has a skill that I believe is unmatched. He pulled me out of my situation and I can now move on with my life. I will forever be thankful and without a doubt will refer him to anybody I know that is seeking a skilled attorney. Take my words from heart and don't be fooled, Dave Risk is a stud when it comes to law. Hire him or you may regret it.

Thanks Dave, again, you are the man!

B.S.
What would I have done without Debbie Lang? Well, the answer is easy: I would have walked into the court room, unrepresented, and accepted a conviction of DWI and suffered the various consequences that come along with such conviction.

When I was pulled over, handcuffed, and experienced the whirl wind of everything that went along with being at the police station I had no idea what to do, I felt speechless and lost. I also had no idea how important it was to have a lawyer in such a situation. Days later, when thinking about the expense of a lawyer, it was out of the question in my mind. But my parents called on my behalf (they felt it could be necessary) and we went to meet Debbie. As I told her my story, Debbie listened respectfully and without judgement. She made notes while giving me her feedback and thoughts on the situation. As Debbie spoke I was astounded at the level of her knowledge of DWI law and I thought to myself, "Wow, this woman knows her stuff!" Additionally, she did not make me feel pressured to hire her or use "scare tactics" to sway my decision. After much careful consideration I decided to hire Debbie and I can't express how glad I am that I did.

Throughout the process I realized how important it was to have a lawyer during the process of a criminal trial. Debbie skillfully and quickly helped me navigate the legal system and handled the many formal documents for me while addressing the fine print I might have missed. In the midst of such a stressful and frustrating process, this was a huge weight lifted off my shoulders. While fighting like crazy for me, Debbie use her extensive knowledge of law to think analytically and creatively within the context of my particular case. In the end, Debbie was able to help me get an extremely favorable result that I never imagined was possible. The result would have definitely not been possible if I had not hired her.

I could go on and on about how wonderful Debbie was so I'll just say this: If you are unsure about hiring a lawyer, I seriously urge you to call Halberg Criminal Defense and, at least, meet with one of the lawyers. Having Debbie by my side was calming and more necessary than I could have ever imagined at the beginning of the process. It was well worth it.

E.H.
Christina, I wanted to sincerely thank you and your team at Halberg Defense for your help and support with my expungement petition. You were diligent and knowledgeable, but also made yourself available to me whenever I had questions or concerns. I felt confident with you by my side in court and I know your expertise was integral in a favorable outcome. You have helped to change my life and opened new doors for me. I will always be grateful, thank you.

T.S.
Hi Marsh,

Several years ago, you played a key role in helping us save our son's life. I want you to know that we continue to be grateful. He and his wife now have two beautiful daughters and a happy family life. Thanks for having faith in a young man and believing that he was "worth saving," as I heard you tell a judge one day. You were absolutely right! Thank you from the bottom of my heart.

S.H.
Debbie – As always, you are wonderful at what you do and I was pleased to have you represent me!

B.W.
"I never in a million years thought someone in my family would need a criminal attorney, so when I got the call that my teenage son had been arrested and charged with a very serious crime, I didn't know where to turn! All I could do, in my state of panic, was to get on the internet and search attorneys. I chose quickly from the choices that came up in the search and called Halberg Criminal Defense. I spoke with the receptionist who had the perfect attorney, for our situation, in mind. She suggested Attorney Debbie Lang and I can't tell you how thankful I am that she did!!! Debbie called me back almost immediately, got some information, and sent one of her colleagues…who was also wonderful, might I add) to meet with my son, who was in custody! Obviously this was a very scary time for my son and me, but instantly we both felt some relief knowing that Debbie jumped on our case right away and was able to answer questions we had with no hesitation. I could tell, from the very beginning, that she knew the law inside and out! From the first meeting to the last, we knew Debbie was fighting for the best deal for my son, which was evident when he got the best possible scenario considering the circumstances!

Debbie works long hours, if she has to, to review cases, meet with clients, return phone calls! Her knowledge of the ins and out of every step of the case is remarkable. I always felt my son with safe with her. She is very patient and understanding of the difficult time we were going through. I can't say enough about how lucky we are that I stumbled across Halberg Criminal Defense in my internet search, which led us to Debbie Lang, the best attorney EVER! We will be forever grateful for her hard work and availability to us!

btw…I did eventually search for some background on Ms. Lang and finding out that she is ranked in the Top 100 defense attorneys in the nation, didn't surprise me in the least! Thank you, Debbie Lang and Halberg Criminal Defense!"

Signed – Mother of son charged with Criminal Sexual Conduct
I was arrested for theft of controlled substances. I faced both legal and professional consequences for this. It was a horrible time for my family and myself. We were fortunate to hire Eric as our attorney. He was skillful, professional, and always available. Just as important, he was compassionate, friendly, and understanding of both my and my family's situation. We believe we got the best outcome possible given what I had done, and Eric was a huge part of that. I recommend him highly to anyone needing a great criminal attorney."

C.M.
I was represented by Eric Nelson of Halberg criminal defense for felony charges related to methamphetamine in 2010. I can't say enough about what a excellent job Eric did as my lawyer. During what was the darkest, scariest time of my life, Eric handled my case in an aggressive, professional manner. His representation far exceed any expectations that I had. Not only did he get me a favorable outcome and keep me out of prison, he took a personal interest in my life. He helped me to get my life back on to a positive track. He helped get me into a program that completely changed my life for the better. When I graduated from that program he even took time out of his busy schedule to come and speak on my behalf. My family and I are so grateful for the role Eric had played in our lives. He helped me through the darkest moments of my life. Thank you Eric Nelson, and Halberg criminal defense. They truly care about their clients.

M.F.
Debbie, We can never thank you enough! Choosing you as my son's lawyer was the best thing we could have done for him. He made some mistakes that turned into major legal problems and his life into a nightmare. You brought the light! Your compassion, your intelligence, dedication, and razor sharp law expertise helped turn everything around. You treated my son's case as if he were your son, I'm eternally grateful. We will highly recommend you to anyone who needs legal advice, or a lawyer! You are the rock star of lawyers to us!

S.S.
Dear Christina,

Thank you for helping us support our daughter when she got arrested for DWI. We had no idea how to get bail approved and that was a big priority so we could get her released from jail. Your calm and professional approach toward our calls and emails was appreciated more than we can say. Although we are just starting the process and have a long road ahead, we're glad that first weekend is behind us. Thanks for everything you had to do to get her released on Sunday instead of Tuesday. Those two days made a huge difference to all of us.

M.B. and T.B.
Debbie,

I'm so grateful to you. Your knowledge of the law and your razor sharp presence helped turn a bad mistake into a second chance at getting my life back. It may be routine for you in your practice, but please remember that your handling of my case helped change my life. Repeat that in your head if you ever have a bad day. Your ability to read between the lines is nothing short of genius. Picking your name at random from the phone book was not an accident. Legal prowess aside, you're a fantastic person. I am so grateful for the superb work you did for me. Thank you Debbie.

-EB
David,

I believe you did an excellent job of representing me. I would recommend you in a heartbeat to anyone in a similar (or lesser) situation. I feel I should have used a beautiful card to send you, but I succumbed to the easy way of email.

Thanks again.

-MT
Christina,

Thank you so much for representing me thus far, sorry for being so pessimistic in the past, I am very thankful I decided to go with you and your firm, I am slowly becoming optimistic for the end outcome. And I am positive you will stick with me using your perseverance through the criminal and traffic cases…Thank you, thank you, thank you.

-JDS
Hey Eric,

Just wanted to send you a quick note to say "thanks" again for all your help through this! I know I am not the easiest to work with, but I mean well and I appreciate your hard work in making sure I had the best outcome possible! I know things would be a lot different if I did not have your representation and in my opinion, there is no one better!

-EK
David,

Thanks again for your help throughout this process! I do greatly appreciate it and you being thorough with everything and explaining everything to me as we went through things.

Thanks,

BL
I chose Dave Risk to represent me in the unfortunate and extremely challenging circumstance of two DUIs going through court at the same time and it was one of the best decisions I've ever made. I was facing truly significant penalties in terms of fines, extended license revocation, and jail time but Dave was able to negotiate both cases to reckless driving charges with a minor fine and only a few months without driving…it was the absolute best possible outcome – honestly so much better than the alternatives that we didn't even think was possible.

Aside from the truly incredible outcome, Dave was great to work with – very supportive and not judgmental about the charges at all. I hope I never have to recommend a DUI attorney, but if I ever had to it'd be Dave without question.

EF
Debbie – Thanks for all of your work to get the legal consequences in my case minimized. I also appreciate your great patience and your willingness to answer the myriad of questions I had regarding my case. As I said verbally, I will not hesitate to recommend you to anyone else needing such help.

Sincerely,

JD
The market is flooded by plenty of quality Attorneys that provide in-depth rationales as to why they possess the exact legal representation that you need to feel confident in them as your legal representation. However, when you are in the depths of the confusing of a criminal charge you want more than just a strong and legally savvy attorney. Halberg Criminal Defense went far beyond being excellent legal representation and skilled legal defense. My Attorney, Debbie Lang, not only exceed my expectations regarding the outcome of my case, but allowed me to feel confident that I was not just another case folder on her desk, but an individual that she was committed and invested in providing the best legal defense and support in navigating such a challenging, uncertain and stressful life circumstance. Attorney Lang was dedicated, incredibly knowledgeable, tactful, personable and determined to achieve the best outcome for my case. She was always there to answer my questions and provide comprehensive and concise answers and feedback. I have continued to recommend Attorney Lang amongst the community and if you are looking for legal representation that invests in you as a person and not just the outcome of your case, be confident that Halberg Criminal Defense is the ideal firm to represent you. My confidence never wavered when I was represented by Attorney Lang and for that I am forever grateful.

-JB
My sincere thanks for your help in handling this matter. Your professionalism helped me stay optimistic as to the eventual result, and I know the final disposition was about favorable as could be expected.

DM
Dear Christina,

I had to write you and thank you for what you have done for our son. My husband, son and I couldn't be any more pleased!! I knew when we spoke to you the first time already we had so much confidence in you. Of course we still were a bit nervous, but through these past months I felt peace too. I kept telling my son that we have the best lawyer out there and you were going to work very hard for him. The first court date we all were nervous and my son texted me and said "Christina is so confident!" That put him at ease so that made us feel better too. Last Tuesday during court he was texting me a bit, and I asked him if you were with him at the time and he said " she's doing her thing" :) and of course that made me smile!

So again, THANK YOU! THANK YOU! THANK YOU!! We are forever grateful!

Sincerely,

SLT
Dear HCD, I feel that this letter is far overdue, but it's never too late to say "thank you." Your representation and friendship at the time of my DWI and since then has meant so much to me. You told me to let you do any worrying and to just take care of myself. I wonder how many people actually take that advice and let you do your job while they concentrate on themselves. I'm glad I listened. I always felt like your most important client. I never felt judged and always knew you were on my side. That is peace of mind that you can't put a price on. My husband and I were able to focus on the things that mattered, like marriage, kids, work and my recovery from alcoholism. If I had tried to take on defending myself I can say with surety that I probably would not have remained sober. Your support has played a very big role in my sobriety. We were both truly impressed with your professionalism and knowledge of the law throughout the entire process. I feel that if we had gone with another attorney, I would be facing stiffer consequences that would cost me financially as well as socially. So, thank you. You exceeded my expectations as an attorney and as a friend.

Sincerely,

CJS
David, I wish to express my gratitude for all the effort you put forth and for seeking the best options for my well being. Tho it was not a situation I wished to be in….I definitely contacted the right team. My many thanks and appreciation to all involved. May we never meet again. *laughing* Thanks again David!! For a job well done and now I can go forth with both personal and business life. Take Care and Thanks to ALL.

Best Regards,

RK
Dear Marsh,

I just wanted to THANK YOU sincerely for all the work you accomplished; and especially for negotiating an amazingly (and unexpectedly) favorable disposition of my case. I could not have hoped for a better outcome; your outstanding skills completely impressed me.

You and your staff have always treated me with nothing but respect, patience and compassion throughout my ordeal; and I truly appreciated that as well.

As I move down my new path of a better life of sobriety, I feel that you are a part of that.

While I hope that I will never need to avail myself of your services again, I will certainly recommend you to others should the opportunity ever arise.

My (long-passed) father once offered me the following advice: "…should you ever find yourself in any sort of trouble, make sure you find a good lawyer…" Dad was indeed correct; and I am certain that I've had the very BEST!

Thanks again, Marsh!

EK
Dear Marsh,

My life was turned upside down when I was abruptly arrested out of my own home on an allegation that I had sexual relations with the minor daughter of my fiancé.

I adamantly denied the accusation. I believed the teenage girl was trying to derail my anticipated wedding to her mother.

As you know, I live in a small town and this allegation caused people to turn against me and shun the rest of my family. My former lawyer said I did not have a chance and said I should plead guilty. He said I could get out of prison in 12 years.

I researched many lawyers and found everyone spoke so highly of you and I soon learned why. As soon as you picked up my file you began to vigorously defend me. You built a very strong defense for me so we could fight this allegation. You moved into town for a couple of weeks for a brutal trial where you never wavered in my defense.

The jury was out for less than one hour and found me not guilty of all charges! You are like family to us and I was so pleased you could attend my wedding.

Thank you for your belief in my case and your professional and skilled defense of me.

Gratefully,

D.M.
I got my first DWI and thought my life was ruined. I called Halberg Criminal Defense and met with one of their attorneys. He got my license back in 1 week and when we went to court the case was dismissed due to the attorney's great defense strategy. He saved my reputation and turned my life back to normal. I wouldn't use anybody else. Halberg Criminal Defense was a lifesaver.

S.B.
Tina, just wanted to say thank you for all your hard work on my case. I sure did appreciate your help. You were always very nice to me and helped me through all of this. If it wasn't for you and my family I don't know what I would have done. It was really nice to work with you.

Thanks again!
HCD,

I cannot thank you enough for everything that you have done for my family! You have always been there for us no matter what time of the day or where you were. I have talked to people that were represented by other Lawyers' if they had questions they could never get a hold of them or they would not call them back, this is something that has never happened with Halberg Criminal Defense they have always been there for us. You have cared about us and helped to reassure us that you would do the best you could, and everything would be ok. I cannot say enough about this Law firm. I will tell everyone if they need a lawyer for any reason to call Halberg Criminal Defense. Thank again for everything!

Diana
Tina,

Many thanks to you for the great job you did in my son's defense. I have never been so afraid in my whole life but you came through for all of us. I hope you understand that all I wanted for [my son] was the best defense possible and that person was you. The truth came out. [He] was innocent and you made the jury see that.

Thank you!
I got myself into, what I thought was a legal quagmire with several law enforcement officials here in Maple Grove, Hennepin County in spring of 2012. Over that fateful weekend, I googled and found the Halberg Defense Team. I secured the services of the firm and received a consummate attorney who carefully guided me through the legal process. He was all but able, to drop all the charges and made sure that my professional career would not be sullied, in due to his careful planning and negotiating skills with the prosecuting attorney. The attorneys at Halberg Criminal Defense are professional in every sense of the word and through their efforts, I have peace of mind and continue my normal course in my career. Many thanks!!!"

M.U.
My experience working with the firm and in particular Zach Graham was nothing short of spectacular. I had three expungement cases from 2012 in three different counties. From our first conversation and to final sound of the gavel, this entire group met my needs effectively, professionally and timely. There were so many questions, logistics, paperwork and what started out as a rat's nest of trouble for me, Zach turned it all into a masterpiece. He was prepared for each one of my court dates, communicated my cases with the utmost professionalism and maintained a high level of integrity. I felt like he took my case personally and worked on it with passion. Furthermore he was respected by his peers, the prosecution, DA and the Judge to fullest in the Court Room. I knew I had hired the right guy. An added bonus…..the cost of service was lower than 4 other quotes I received. Can't beat that right?? The best representation for the lowest cost. Thank you Zach and his team. Go Packers!!

T.K.
Zach was the best at helping me understand the process and providing legal advice. He was able to calm my nerves and anxiety and very simply explain what I needed to know and what I needed to do. He took a very difficult and embarrassing situation for me and negotiated a plea to my satisfaction. He asked me to "trust him". I did and he did not disappoint. Not only is Zach my lawyer but I know consider him a friend. Thanks Halberg Criminal Defense and Zach Graham!

K.D.
Tina,

You were my only hope for peace in this crazy world of game playing … You are in my book a powerhouse of a woman in many ways, not only as the smartest attorney of record also a woman of great distinction … ready to beat the devil out of anyone who is full of it and you know we both had to deal with several people that were full of it. The Judge I noticed respected you and so did the bailiff and many in the courtroom when I was brought out cuffed in my orange pajamas.
HCD,

I just wanted to thank you for everything you've done for me during the aftermath of my DWI arrest. I never thought I'd find myself in this position, but I am so grateful that you are there to lead me through the legal process with ease and professionalism.

Thank you for always being available to answer my millions of "what if" questions and making a very frightening situation manageable. In the future, if ever a situation should arise that requires legal advice for me or a friend I know who to call!

Thanks again.

SS
Tina,

I am so grateful to you. Thank you for all that you did for me, both professionally and personally. You really went to bat for me. I was such a mess and you saw that. You really helped pull me out of the darkest days of my Life … my gratitude to you will never cease nor will my thoughts and prayers.
Dear Marsh:

When I was charged with Criminal Sexual Conduct, I thought my life was over. The thought of spending years in prison for something I did not do and the destruction of my family was overwhelming. I did not want to get a local attorney, who was part of the "old boys network", and came to the Cities to pick my lawyer. Most times first impressions are the best and, in my case, that was certainly true. Your friendly and supportive nature gave me confidence that we could win my case. To watch you lawyer at my trial was amazing. The jury was only out less than an hour, which was a ringing endorsement that I was not guilty.

Thank you from the bottom of my heart for all you have done for me.

Sincerely,

S.S.
HCD:

Thanks for your help and guidance with my court case. You and your team, handled all the activities needed around my case very professionally but never lost the personal touch with me. I am obviously very please with the out come. I was not sure what to do when my DWI happened and I thought I was wrongly arrested. After you reviewed my case we talked, and with your knowledge and expertise, you proved to me that I had every right to question my arrest. You and your teams skills proved to be the difference for me.

Together, we decided to fight for my rights. I was very happy that all charges were dropped. You proved that my arrest should not have happened. I will always recommend you personally along with the entire Halberg Criminal Defense team to anyone that might need your expertise and services.

Thanks again for the help as my Lawyer.

Sincerely,

AH
Marsh-

A quick thank you for all of your hard work on my gross misdemeanor DWI case. The "careless driving" conviction you negotiated for me was a far better result than I ever hoped for. Most importantly, it allowed me to save my job, and for that I will forever be grateful.

K.N.
HCD,

I wanted to thank you again for all of your help through the whole ordeal! I couldn't have realistically expected a better outcome, nor for it to have affected my life any less than it has. Thank you thank you thank you.

JT
HCD,

Words cannot express how grateful we are for your help. From the moment we picked up the phone. You have given us a rare chance and I know we will never have to call you again. Thank you for your advocacy, and your constant assurance. Your words always helped us sleep at night. We would like to say thank you from the bottom of our hearts. You are the best lawyer. You have been god sent and we cannot thank you enough.

Thank You.

C & N
Debbie,

Over the course of your 4.5 months of representing me, I greatly appreciated your patience, thoroughness and professionalism to help me through very difficult and complex legal issues. Not only were you diligent in your approach to each individual case, but you treated me with the utmost respect and caring attitude. You left no stone unturned, utilized your extensive knowledge of the legal system, and uncovered all options available to me regarding the process and outcomes. It is easy to feel as if you are blindly navigating the legal process as a defendant, but you assume the role as a confident and valued personal adviser when you are representing your clients. I must say it was a refreshing and comforting experience to have a representative who not only values her commitment to the profession, but also values the experience of her clients. I sincerely thank you for all the hard work and dedication you gave to me and the legal process we went through during your retainment. I would highly recommend you to anyone who has any concerns and legal difficulties that arise in their life. You made a huge difference to my comfort level and ability to achieve a positive outcome during a difficult situation. You are not only respected by me, but by the legal community as I witnessed personally throughout the process. All the best to you, and I'm sure you will continue to be as impactful for others as you were for me.

B.W.
Halberg Criminal Defense Awards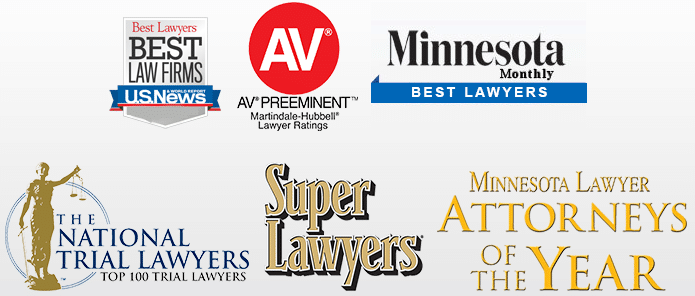 Map to Halberg Criminal Defense
7900 Xerxes Avenue South, Suite 1700, Minneapolis, MN 55431
Ramsey County DWI Lawyers
7900 Xerxes Avenue South, Suite 1700
Minneapolis
,
MN
55431
Call 24/7 (612) 424-7644

Minnesota's Largest & Most Experienced Criminal Defense Firm
Halberg Criminal Defense has been recognized as one of the 'Best Law Firms' in the country by U.S. News and World Report. HCD was ranked as a 'First Tier' law firm in the area of DWI defense.
Halberg Criminal Defense
Free parking • Free initial consultation
March 9, 2017